Tue 22 Feb 2011
Once again, it's time to look back on the games of yesteryear and give the best ones shiny digital trophies. The annual AGS Awards are coming up shortly and the nominees were recently announced, so let's take a look at the contenders for Best Game Created With AGS in 2010. Hopefully, you'll be more informed about the contenders.
Still, as LeVar Burton said, don't take my word for it. I highly encourage you to play all the nominees for yourself, as they're all excellent. This article promises to have 20% more spunk than last year's.
Eternally Us:
Winner of the One Room One Month MAGS competition last April and one of last year's most popular titles, Eternally Us is going into the awards strong, receiving an impressive 13 nominations. In fact, it'd be easier to name the categories in which it's not nominated. The brain/lovechild of Calin Leafshade and Ben304, EU tells a story of love and loss that used some innovative narrative techniques to pull on players' heartstrings. The art is what you'd expect from Ben, i.e. phenomenal, and the voice acting is stellar, but it's not without a few flaws. As an emotion-driven game, many of the story and dialog aspects are highly subjective and the puzzles suffer from the one month limitation and the extensive polish focused in other areas. Still, its very vocal majority of fans have a good chance of besting the equally vocal critics.
Snakes of Avalon:
Another highly successful entrant to the OROM,  Snakes of Avalon was re-released in its full form last September. Created by Igor Hardy and Alex van der Wijst, the game tells the story of a heroic alcoholic and takes its logic from his inebriated mind. Experimental in often abandoning traditional notions of reality in gameplay and attempting to recreate the mind-screwed sensation of drunkenness. With references to Kafka and Citizen Kane as well as a catchy original soundtrack composed by Thomas Regin, Snakes has many points in its favor. On the other hand, the surreal humor and frequent breaks from reality often lead to unintuitive puzzle solutions and a plot that can baffle players who don't get into the drunken mindset the game expects. Still, if you can get past some of the flaws, Snakes of Avalon brings a lot to the table.
Technobabylon – Part 1: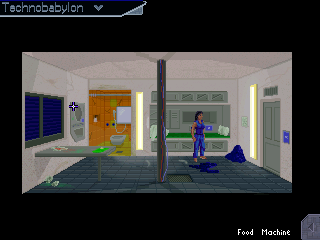 A standout short game released in October that introduces a dystopian sci-fi future where virtual reality has become like a drug for the lower class. Technobabylon takes this interesting premise and applies it to the classic "escape the room" formula to great effect. Although short, the game is well-written, engaging, and aesthetically rad. The polish makes up for its limited stay;  chances are, it'll hook you to the end, which assuages the non-existent save system. It features some well-written characters and fancy pixel graphics, but what it does best is introduce a brand new world and, by extension, a promising original series. At its release, the general consensus was that players looked forward to seeing more from the Technobabylon universe, which leads us to…
Technobabylon – Part 2: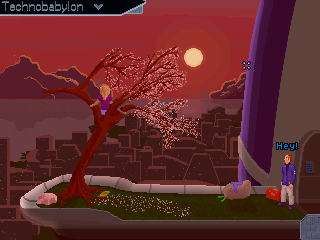 Released shortly after the first installment, Part 2 of Technobabylon takes the intriguing setting of the original and cranks it up to 11, going from a short one roomer to a fleshed-out medium length game. With all-new characters, locations, and story, the second episode continues to expand this young universe. It's objectively better than its predecessor in almost every aspect, a bigger world, more characters, improved gameplay, and a working save system, but whether it holds everything together as well as the original is a matter of player opinion. Frankly, the biggest obstacle facing the two Technobabylons is each other. It's possible that fans of the series will be split between the two installments, cannibalizing both games' chances as occurred with Ben Chandler last year with his many nominations. But who knows, perhaps the fans for both will come out strong enough to invalidate this issue.
The Journey Down: Over the Edge:
Another debut of a new episodic series, Over The Edge is the first chapter of Theodor Waern's Journey Down saga. Reminiscent of old LucasArts games yet very original in setting, it was one of the most popular AGS titles of the year. As stated in our review, TJD is very well-polished, featuring some stellar art and top-notch design. Filled to the brim with inventory puzzles and cheery dialog, the game is pretty darn fancy. It also innovates with regard to character nationality, but while the endearing  Jamaican characters are refreshing, the Japanese chef with a controversial difficulty pronouncing l's is a bit disconcerting. And though the art and music are amazing, the proofreading and sound effects are somewhat lacking in comparison. Still, Over The Edge is a very complete package and one of the most compelling presentations in recent memory.
---
Each game has its strengths and weaknesses, with your decision coming down to which style most appeals to you. The Journey Down has an advantage with classic LucasArts fans, Technobabylon appeals to fans of Beneath A Steel Sky, Snakes of Avalon's mind-screws target surrealist aficionados, and Eternally Us aims to tell a modern, moving message. These are some of the best freeware game released last year and there's something for everybody among the nominees. In any case, I think all have a definite shot at taking home the gold and I strongly encourage you
to vote
.
38 Responses to " Best AGS Games of 2010 Awards "
Trackbacks & Pingbacks: